Helping You Navigate Your Path To Fertility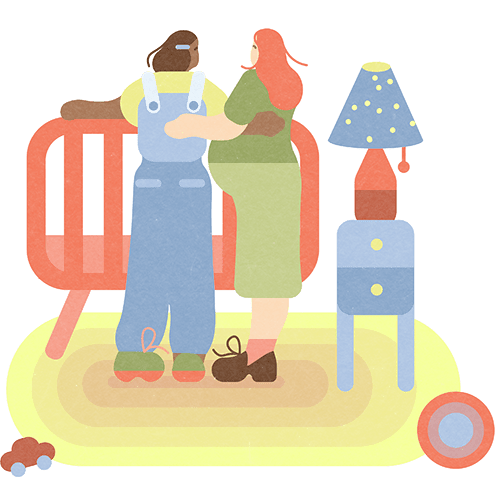 Oona can help you get closer to building the family you have always wanted.
When we were kids, we were all warned about how easy it was to get pregnant. We were assured (and warned!) that it could happen at any moment. But perhaps, now that you want to have a child, you may be finding that it isn't so easy.
Whether you are having trouble getting pregnant, staying pregnant, or simply want to get your body ready for pregnancy, we can help. Fertility treatments offered at Oona's Toronto and Newmarket locations are complementary to IVF and other fertility treatments, and support your whole self: mental, physical, and emotional.
Fertility Services & Treatments in Toronto and Newmarket
Balance your hormones, enhance your fertility, naturally decrease stress, and get ready for your upcoming journey into motherhood.
Trying to get pregnant can really test our resilience and mental fortitude. Oona's experienced mental health professionals are here to help you face those unique challenges and can help you find peace and perspective.
Registered Massage Therapy can increase circulation, address fertility issues such as hormone imbalances, reduce stress levels, and ease the emotional stress of trying to get pregnant.
Oona works with insurance companies to do online billing for treatments, whenever possible. Simply ask if your insurance company is compliant when you book your appointment.
Latest Fertility-Related Blog Posts

What Is Sciatica Sciatica is the name given to pain caused by sciatic nerve irritation. This pain branches from your lower back through your hips, glutes and down each of…
Read more
Latest fertility-related videos
Hi everyone, Dr. Alexsia here to answer your "Ask Me Anything About Fertility" questions. Thank you for all your questions, we got a ton. There are a couple that kept…
Watch video
Hi everyone, my name is Safire Naranjo. and I am here today to talk to you a little bit about EFT tapping or emotional freedom techniques. So I'm going to…
Watch video
Hello, my name is Allison.  I'm one of the physios here at Oona. Today we're just going to be going through a thread the needle stretch and really what this…
Watch video
Give the Oona experience to someone you love
(Oona was previously called West End Mamas)
I have seen Erica for naturopathy/acupuncture, Jillian for pelvic floor physiotherapy, and Emran for osteopathy to prepare for labour and birth, and they were all wonderful! They were really knowledgeable... read more and took the time to explain everything clearly to me, listen, and fully address my concerns. I feel much more comfortable and reassured that I'm doing all the right things in preparation for birth.
Lorie Legge


May 14, 2022
I take my daughter to see Alima Rahman for Pediatric Chiropractic visits at the Toronto location and she is absolutely wonderful. She is so kind and gentle when working with... read more my daughter, she makes her feel so special that she never wants to leave! She has taken challenges that my daughter was facing and made them into fun activities. My daughter is no longer frustrated, she looks forward to seeing Alima at our weekly appointments. I can't say enough good things about her, she is so knowledgeable and friendly. She's the perfect practitioner for a for a fussy toddler. She is calm, warm and nurturing, I would recommend her services immensely.
Kate Wobowsk


May 14, 2022
West End Mamas consistently provides amazing service. Every practitioner I've seen for massage, chiro, and physio is great. You can't go wrong no matter what your need is.... read more It's so important during the pre- and post-natal period to be able to be treated by people who really understand what your body has gone through.
Heather Kay


June 13, 2022