At Oona, our team members have diverse backgrounds, life experiences, hobbies and abilities.  Our community is committed to working together against racism, sexism, homo/transphobia or any other forms of oppression. Our Community Code of Conduct has been developed to ensure that our staff can provide care without bias.  This Code of Conduct applies to all patients, partners, staff, extended staff and any stakeholder working with us at Oona.  We reserve the right to terminate care and contracts at our discretion based on the guidelines, below.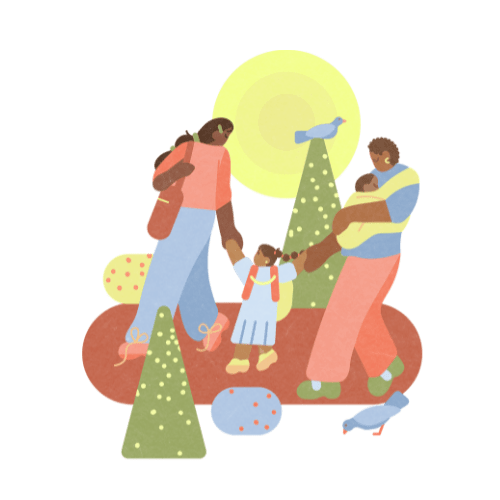 We continuously enhance our community and work to promote inclusivity, adapting and expanding in response to emerging needs. We hold deep respect for individuals with diverse cultural practices, genders, attitudes, and beliefs, actively engaging in attentive listening. Our aim is to create an environment that accommodates all abilities and fosters people's involvement no matter the circumstances.
We have the privilege of serving a wonderful client population composed entirely of individuals who are either on the journey of trying to conceive, currently pregnant, or caring for their little ones at home. We deeply understand the unique challenges that arise during these significant life stages, and we kindly request your understanding as we navigate these experiences together. As a small business, we strive to accommodate the specific needs of our valued patients.
We acknowledge that unexpected circumstances can arise, causing (for example) last-minute disruptions to your childcare arrangements or hindering your ability to honor your appointment with us. We empathize with these situations, as we have also encountered similar challenges in our lives. However, it's important to bear in mind that as a privately owned business, our practitioners are only compensated when clients attend their appointments. When there is a late cancellation or a no-show, the practitioner does not receive payment for their dedicated time and effort. In the case of a massage, a failure to attend could result in a 25% reduction in that practitioner's income for the day. We kindly ask for your consideration of this financial aspect.
Rest assured, we are committed to being as accommodating as possible, fully understanding the difficulties you face. It is essential to recognize that, like any professional, our practitioners have their own financial obligations, such as mortgages, rent, childcare expenses, and grocery bills. By honoring your commitment to attend your appointment, you directly contribute to supporting their livelihood. 
We are acutely aware of the specific challenges that come with being pregnant or having a new family. We consistently go above and beyond to cater to the needs of our clients. However, we kindly request that you also recognize the valuable work our practitioners provide and their rightful compensation for the time they have reserved for you.
Thank you for your understanding, and we appreciate your ongoing support in creating a nurturing environment for both our clients and our dedicated practitioners.
What we say really matters. Language and communication have the potential to perpetuate systemic oppression. We honor individuals' chosen pronouns and embrace the entirety of diversity by always using language that upholds the dignity of all individuals.
Non-Negotiables
At Oona, we expect our staff and clients to behave with respect.  Some behaviours are absolutely unacceptable, and individuals who are requested to cease such behaviors are expected to promptly comply. Failure to adhere to these guidelines may lead to the termination of your care with Oona.
See something, say something
We value the safety and positive experience of every member within our community. If you come across any behaviour, whether online or in person, that compromises the welcoming environment we strive to create, we encourage you to report the incident to [email protected].
Please rest assured that all reports will be handled with the utmost confidentiality, ensuring your privacy and maintaining the trust within our community.
Consequences of unacceptable behaviour
Our first priority is the safety and well-being of everyone involved in our contracts, spaces, and activities. Therefore, any reports of harassment or discrimination will be promptly and thoroughly investigated.
Our expectation is that anyone confronted with a request to cease unacceptable behavior will comply immediately. Failure to adhere to these guidelines may result in the termination of your care, activities or other contracts with Oona.
We firmly believe in cultivating a safe and inclusive environment for all individuals involved in our beautiful community. By upholding these principles and taking appropriate measures, we strive to ensure the well-being of our members and maintain the integrity of our shared spaces.